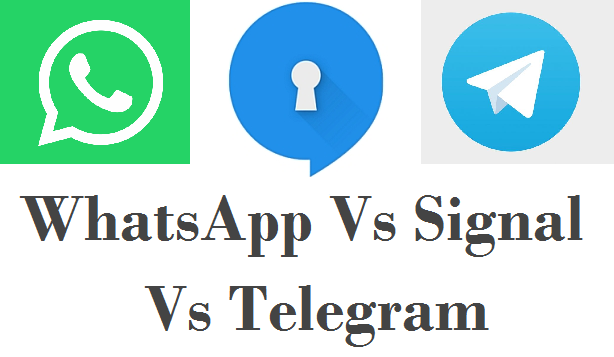 Everyone is in love with instant messaging apps like Whatsapp, Telegram, and Signal which help to share PDF files, Videos, and other data files.  People tend to ignore the disadvantage of all these messaging apps. Some may choose a particular app and choose to ignore the warning just because of its popularity or because it's the one their friends or coworker is using.
While others choose to have multiple messaging apps on their phone which in turn drains their battery and even network data. To help you out, we will be looking at the comparison between the three popular instant messaging apps which are WhatsApp, Signal, and Telegram.
WhatsApp VS Signal VS Telegram
Before we dive in, we want you to know that the three instant messaging apps claim to use encryption to ensure privacy, however, WikiLeaks reveals a lot concerning this claim. One of the findings says that encrypted apps including WhatsApp, Signal, and Telegram can easily be bypass by the CIA.
This shows that these Apps are not as secure as they claim to be. Keeping that in mind, we will be looking at the three instant messaging Apps comparison which includes WhatsApp, Signal, and Telegram.
Signal
The signal seems to be good after all. The instant messaging App is run by a non-commercial organization – Open Whisper Systems. It's a normal messaging app that sends a message in encrypted form when chatting with someone who also uses the signal app. The most exciting feature that makes the signal the best alternative is the interface and encryption protocol.
Even the voice calling features are also encrypted as well. It has a private section where you can disable screenshot and also activate a passphrase on the menu in order to prevent anyone from accessing the App on your phone.
Other features include appearance which allows you to change the background theme from light to dark. Just like WhatsApp, you can share media and GIFs. The Signal is open-source so anyone can check the code anytime and it's free for download supported by community donation.
The Good About Signal
It provides a secure messaging platform to users
It's fully open-source which means anyone can check and taste the security.
It has a simple users interface
Trackers will only know that you are using Signal but can't read your messages.
To use audio chat you must be verified
It does not allow anyone to take screenshots
It's recommended by Even Edward Snowden
The Bad about Signal
It's not compatible with most iOS
Some features are not working as expected
It's not a popular messaging Apps, you won't be able to find many of your friends or contact using it.
WhatsApp
WhatsApp is a messaging app used by many. The app is own by Facebook and it comes with tons of features anyone will love to use. It now has end-to-end encryption for private chats which gives it a positive review. The bad news is that if you still care about your privacy, you should stick with Signal because very soon we might start seeing ads.
WhatsApp is not as clean as Signal though. Some of the amazing features of WhatsApp include voice calling, video calling, GIF support, thousands of emojis, a Snapchat-like status feature, and many more.
The Good About WhatsApp
It features end to end encryption to provide privacy and security
It's popular, almost all your contact is using it.
Simple and user-friendly
It automatically encrypts every message on default settings
The Bad of WhatsApp
It's not open-source, which means the Facebook that controls it can easily temper with the privacy settings
There is the possibility of data misuse by Facebook
Telegram
People always praise Telegram for being safe and secure which is far from reality. The encryption provides by the app can only function when users choose the secret mode option. So by default, all Telegram messages are transferred over Telegram's unencrypted servers.
The amazing features of Telegram are the clean user interface and it's also good for marketing because of the Telegram group Channels and group chat that accepts many people. To enjoy Telegram, always turn on the secret mode.
The Good About Telegram
The neat and friendly user interface
You can make the message disappear which is good for privacy
It's free and you can share large files
The Bad of Telegram
It's not fully an open-source
The end to end encryption is for secrete chat only
Unlike WhatsApp, it's not all your contacts that are using it.
Final Words:
If we are to choose base on privacy and security, the Signal is the good one among the three. It ensures privacy and encryption because it's open-source. WhatsApp, on the other hand, is nice though but privacy is not guaranteed. Telegram is also nice, its only shortcoming is the non-default encryption policy.
Which one among the three are you using and which one will you love to migrate to? We will love to hear from you.